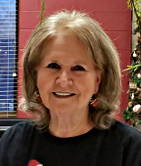 Barbara Jean Williams
Barbara Jean Williams is a life long resident of Union County and a 1972 graduate of Horace Maynard High School. Barbara was elected as Circuit Court Clerk in 2002. Prior to her election she worked in the Union County School System for 22 years as Administrative Assistant and Bookkeeper.
Barbara and her husband, Ralph, have been married since December of 1975. Ralph is a Vietnam Veteran and owns and operates an excavating/trucking business. They have five children and eight grandchildren between them. They reside in Maynardville and are members of Hubbs Grove Church. Barbara is the daughter of Mrs. Ida Mae Monroe of Maynardville and the late John R. Essary of Tazewell.
Barbara is very active in her community and is presently a member of County Officials Association of Tennessee, a member of the State's Court Association of Eastern Tennessee, a member of Leadership Class 2004, a member of the Business & Professional Association, member of the Union County Cancer Relay for Life, coordinator of the annual UCHS Veterans Day Program and named Union County's Woman of the Year for 2008. She enjoys spending time with her grandchildren, reading and gardening.